MOON Letter | New Moon in Aries: Lifeforce, Potency, and Expansion- Go Get It!
Mar 31, 2022

It's like brisk cold air on your skin with the kiss of sunshine on your cheeks.
Essences: freshness, vibrancy- bubbling up or effervescence, vitality, courage + confidence + expansion, dynamism + change, forward motion + momentum, trust in Self, resonance, innate genius, enthusiasm, radiance, aliveness, breath
Actions: visioning, creating plans, organizing, initiation, following heart, focus + commitment, moving energy through movement, breath, and sound, showing up: be seen, be heard, be felt, be known, be present
Practices: running, hiking, dancing, Wim Hof breathwork and cold immersion, sauna hot cold therapy, wild crafting + foraging, planting seeds + gardening, time in nature (always), pursuing bliss, joy, and pleasure, lightbody activation through movement, breath, sound, sun + light bathing
Happy New Moon in Aries LOVERS!
This morning I had the most beautiful, blessed, and blissful morning. The air was pretty dang chill and I was wearing minimal layers- but I felt like I had so much vitality, so much energy to just GO! I felt light and fast and vibrant. I ran up to this place called Squally Reach- which has this epic viewpoint. Despite the blue skies and sunshine, no one was there! And, no one came the whole time I stayed. It was kind of magical... because something inside me loves silence and untouched nature spaces where I can't hear other humans. I did a movement practice while staring out at the ocean, trees, and sweet views... And then I ran back down the mountain. There is a beach, McKenzie Bight, near this hike- so I decided to venture down there. On my way down, I found stinging nettle- I have been hoping to stumble across some for a while now. I was so stoked! I continued down to the water and decided that I would catch it on my way back up. Again, no humans at the ocean either! So crazy. But for me, so perfect! I hung out here for a bit and then ran back up the hill- harvested my stinging nettle on the way up, and carried it in my shirt back to my truck. (I did get stung, but it's ok!) As I was walking back to my truck- the sun hit my face. It was like bliss. Instantly, I felt the essence of this moon. It's like brisk cold air on your skin with the kiss of sunshine on your cheeks. Spring is here, everything is blooming and alive, and there is so much abundance sprouting everywhere.
When I got home, I sat down, put my feet on the grass, and just soaked it all in. The nature, the air, the sunshine... My breath, my body, my heart beat... Running, feeling, moving, breathing, earthing! There is a certain aliveness in the air. It feels fresh, prosperous, and full of potency. It's like energy bubbling up to the surface. The creative spark of new beginnings. The courage and confidence to expand into new shapes and forms. The willingness to lean into the support and abundance that is all around, to trust, to believe, to receive.
How will you choose to ignite your fire? What lights you up and makes you feel giddy, bliss, joy, and overflowing pleasure?
What is your heart pulling you toward? Does it scare you? Will you take the jump anyway?
Are you willing to leave behind who you were in order to become who you are or who you desire to be?
Aries, if nothing else, is the firecracker- she starts it up! She dares to believe in her heart, in her truth, in her Self. She leads forward, blazing, naive, and true to her inner compass. She's rarely ever ready, but her confidence and courage holds her in high support. She is the beginning. She lights your fire. She asks you to begin, even if you're not ready.
What will you begin?
What flower are you blooming to be?
What life is in your dreams and are you brave enough to go for it?
She's strong and foolishly bold... But she gets shit done and she doesn't wait for anyone to give her permission. It's time to light your fire, to start what you have been wishing, to move forward with momentum and enthusiasm.
Radiate that big bliss energy. Become a magnet and pull in your hearts desire. You are the light. You are the sunshine. Beam my beautiful love bugs!
The universe is waiting for you to step into your innate genius. What will you create? Who are you blooming into? :)
I LOVE YOU!
From your Aries lover,
Elisha
Mystic Mamma wrote for us... She's my favourite!
Calm Whale| Sacral Chakra: WATER Koshi Meditation: See the Ocean of Oneness
UNEARTH | MOVE | A Spotify Playlist by ME!
Check into: Lee Harris April Energy Update
>> LOCAL OFFERINGS | YYJ + VAN ISLAND, BC <<
>>> THIS SATURDAY! | APRIL 2, 2022 <<<
Join me for a day of heart... Movement, radiant heart expansion, cacao, breathwork, connection, and an over all activation of your light body.
This is a day-treat at Rising Sol in Cowichan Valley by Skutz Falls in Cowichan Valley.
Investment: $111 CAD | April 2 | 11am - 5pm
Join me for a day to explore your water being! This is a beautiful day of healing and learning about your bio water. We will explore fluid movement, tidal breathwork, and a special treat: sound healing by the lovely Ocian Sound.
This is a day-treat at Rising Sol in Cowichan Valley by Skutz Falls in Cowichan Valley.
>>> Investment: $222 CAD | June 11 | 11am - 5pm <<<
>> ONLINE OFFERINGS <<
Weekly live conscious connected breathwork class facilitated by one of our breath guides: Zach, Britt, Mason, or Elisha + a growing collection of breath + meditation pre-recorded videos for you to tap into whenever you need!
A growing collection of pre-recorded movement videos 20-45 minutes long from our teachers on Daily Ritual.

Unlimited access to live + interactive Zoom classes on a set weekly schedule

Zoom recordings

All

workshops

at a discount

Discounts on memberships affiliated with Daily Ritual such as:

Daily Ritual Video Membership

($13.33 instead of $33)

breath club

($22 instead of $33) or option to

bundle ALL!

​

Inspired classes designed by movers for movers

Community space to connect with members and teachers + learn lots about the body, alignment, movement, spirit, heart, soul!
Did you know there are over 73 movement videos on my Vimeo movement membership? They range from 20-75 minutes in length... And they have been evolving with me! So many to choose from, anytime you need.
There is also a mini membership: It's like chocolate for your bum! This is excellent if you need some pelvic floor rehab + glute activation!
>>> Tarot <<<
Sun
>> How can I maintain this luminous mindset and light? >> Am I ready to celebrate the beautiful path of my life?
Nine of Cups
>> How can I learn to celebrate the gifts and connections? | I treasure and nurture the precious moments. >> How does this light put everything else into perspective? | I acknowledge the gifts and strengths in my life.
Two of Wands
>> How am I balancing my energies at this time? | I travel where my soul wants to take me. >> How can I broaden my horizons and seek adventure? | I shift my gaze beyond the horizon.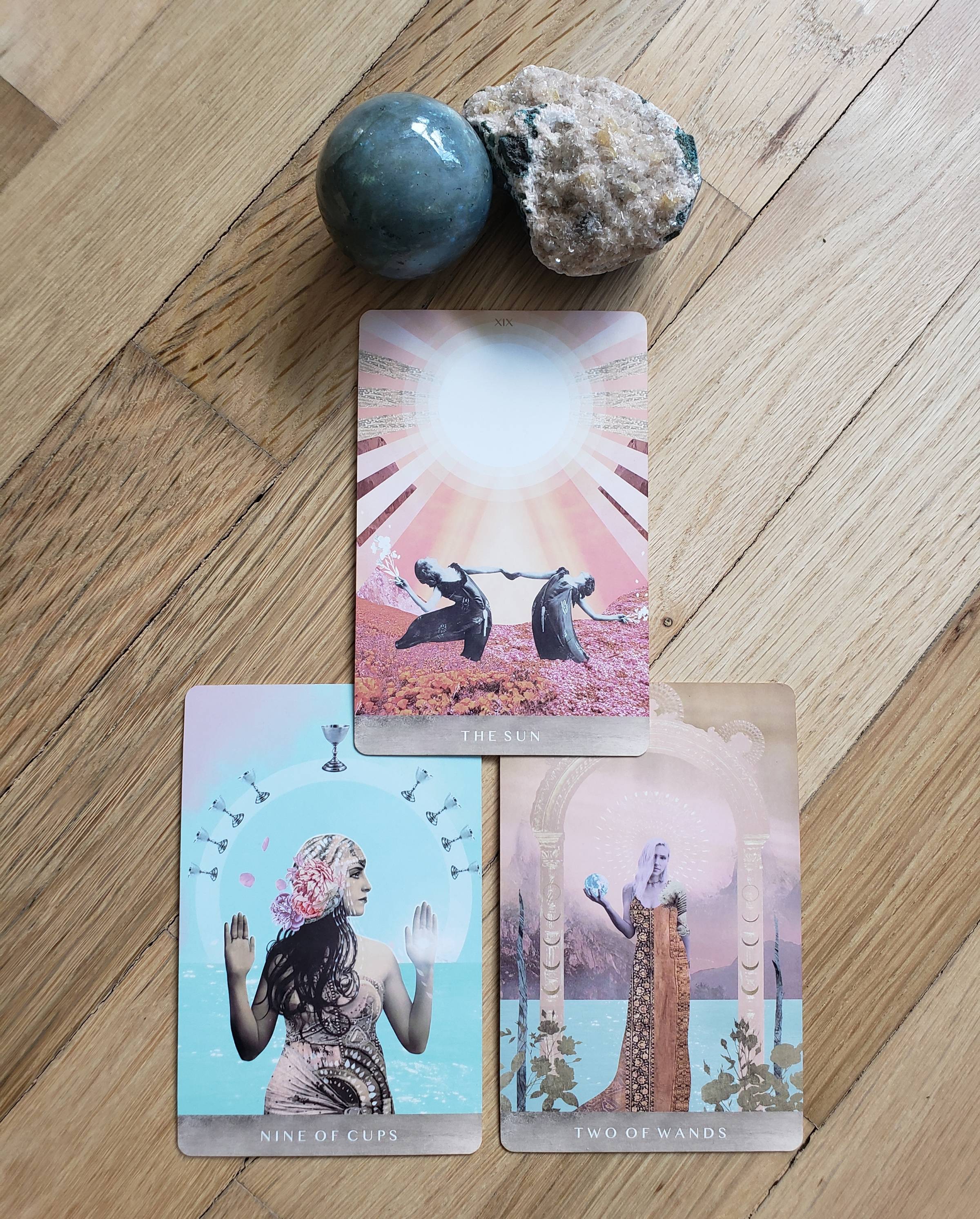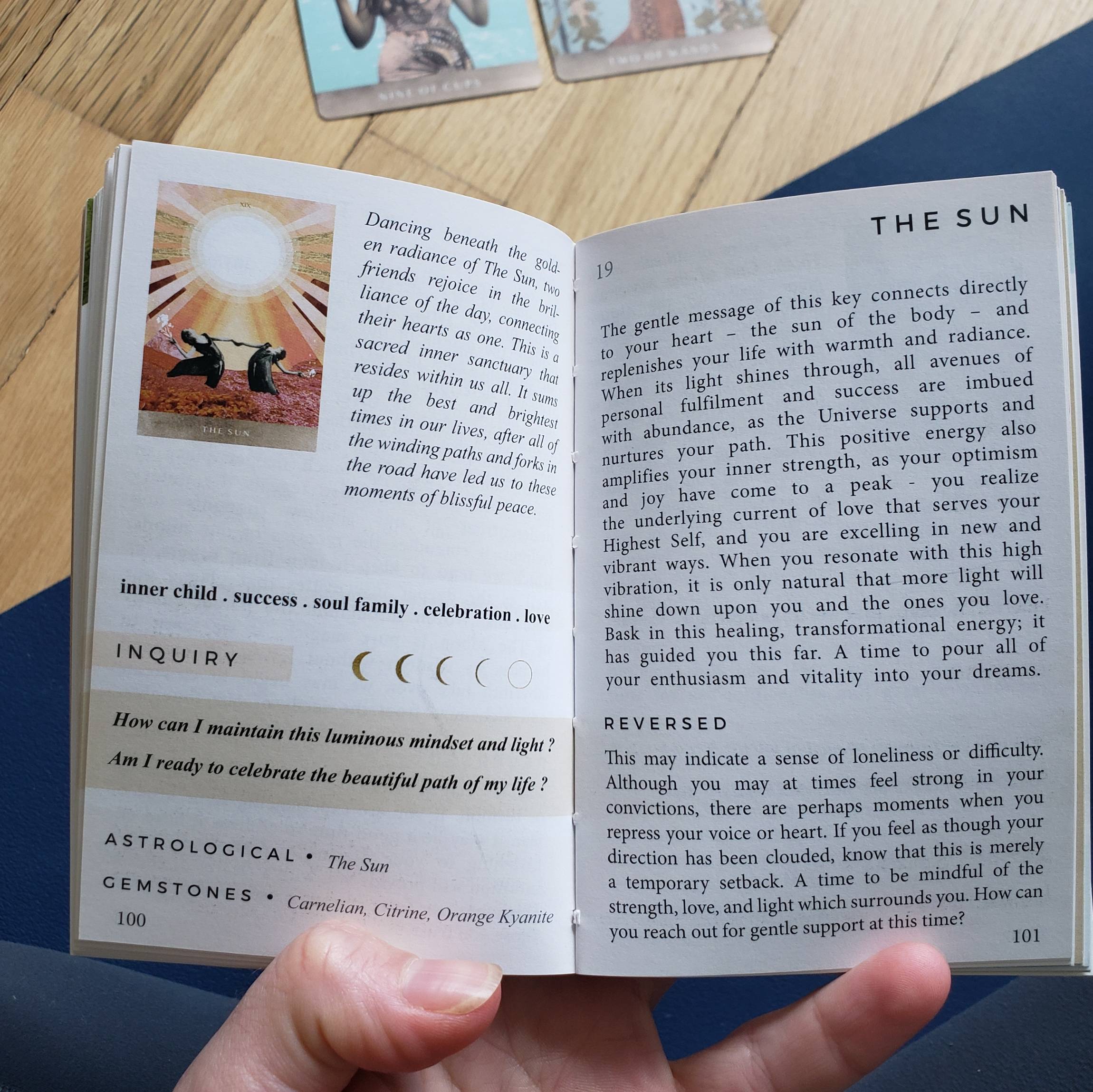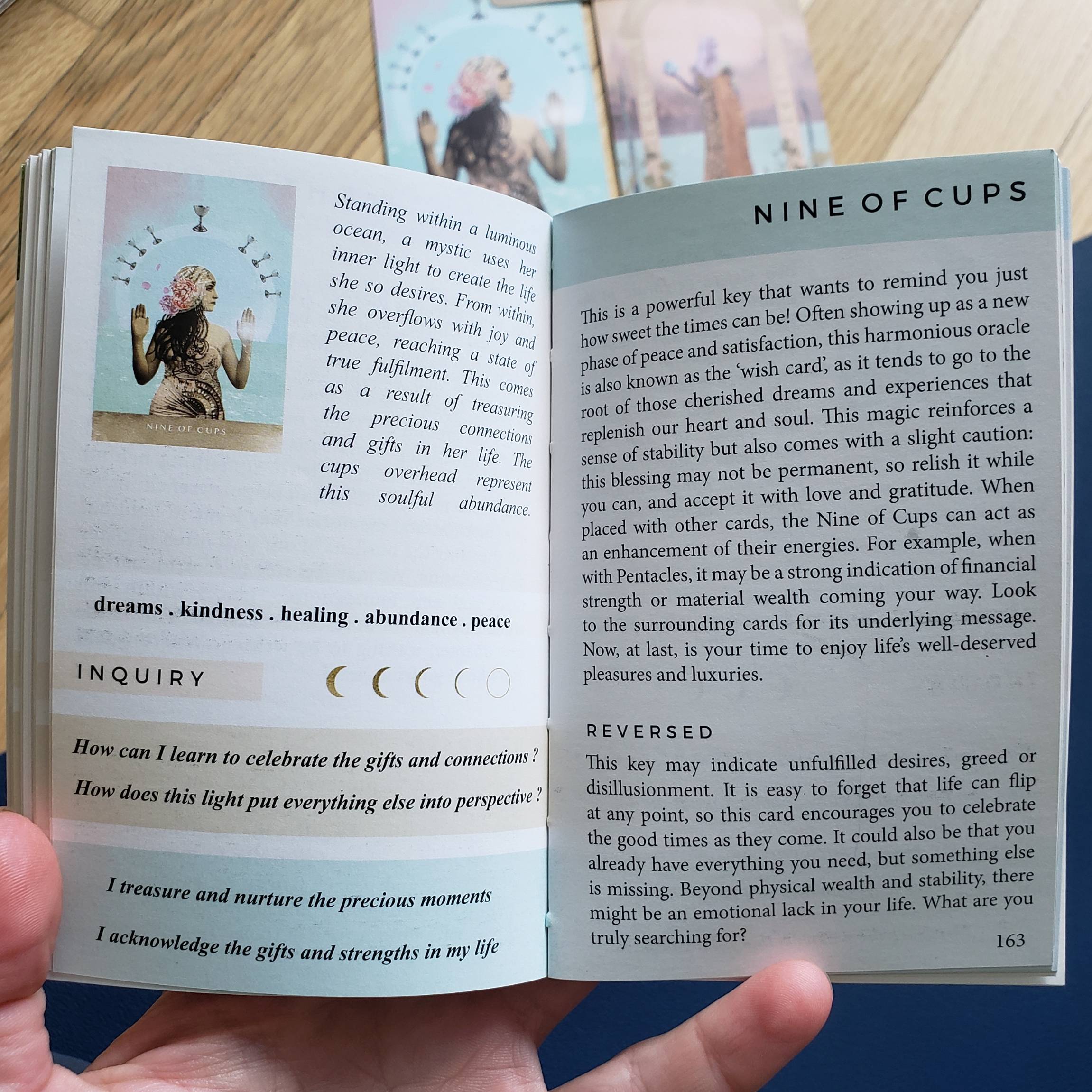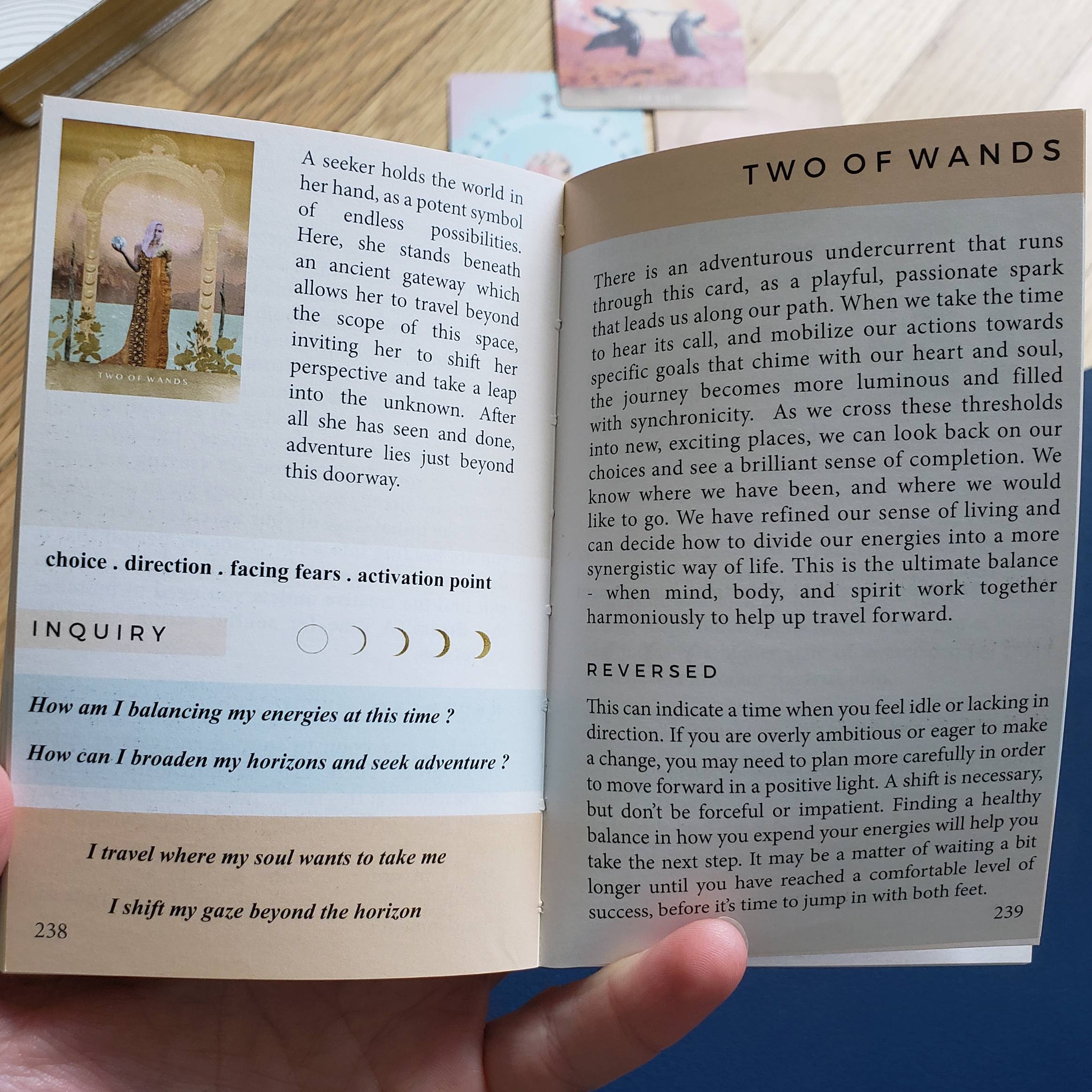 >>> Moon + Astrology <<<
Moon + Rock | New Moon in Aries 4/1
Essences
Initiations, identity, enthusiasm, mindfulness, meaning, resonance
Questions to Ask
What has changed for me since summer of 2021?
What has come into manifestation since then?
What am I being initiated into now? What is beginning anew? What is being birthed?
Where am I letting go? How do I feel about doing so?
What is very clearly resonant at this time, and what is a firm no?
Chani Nicholas | Horoscopes for the New Moon in Aries
The Power Path | New Moon Update
The Hare in the Moon Astrology | Some Days You'll Wonder If This Will Ever End
The Hood Witch | New Moon in Aries:
NEW MOON MANTRA, BASED ON YOUR ZODIAC SIGN:
Aries: I can heal the past by admitting my part in the situation (the good, the bad, and the ugly).
Taurus: I can become one with my heart if I connect with my body and spirit on a deep level.
Gemini: I can manifest a group of friends who will appreciate my kindness and generosity.
Cancer: I am worthy of the success and greatness that is entering my life.
Leo: I can take a step back and see situations with a clear perspective.
Virgo: I am an intuitive being who is more powerful than I am aware of.
Libra: I can create harmony between others through my diplomatic skill set.
Scorpio: I am capable of having a relaxing experience, as long as I step away from drama.
Sagittarius: I am a creative being, who can use my innate talents to enhance my artistry.
Capricorn: I will create a strong foundation, where I can stand in peace.
Aquarius: I am a thoughtful and passionate person, even if I don't show it at times.
Pisces: I am a confident being who can attain greatness when I believe in myself.
♈️ NEW MOON IN ARIES ♈️⁠ The New Moon greets us late tomorrow in Aries and it's all about change. This energy is full of vibrancy and potential ready for you to harness. It's a time to decide what inspires and motivates you, then make shifts that support this feeling. ⁠ ⁠ This New Moon occurs when all other planets are moving direct, meaning there are no planetary retrogrades. This forward motion in the Universe brings even more energy and motivation to your intentions. Allow these vibrations to help you see the full range of possibilities of your life and your ability to create them. It's a time to take on projects, big and small, knowing you have the full weight of the Universe helping to move you forward. ⁠ ⁠ Along with forward-moving energy, there's an element of expansion to this New Moon, inspiring you to grow. It's a time to upgrade your intentions and take them to the next level. It's an opportunity to face your fears around growth and ask yourself what you need to step into the next version of yourself. It takes courage to search for your life's mission and confidence to pursue it. It may even take risks or leaps of faith to create the life you know you were born to live. This New Moon is a time to decide what you're willing to risk for a life you love. ⁠
New Moon in Aries ♈️ Deeper Healing to Move Forward This New Moon is the first Moon of the season bringing balance with the Sun + Moon (identity + emotions) as we enter fully into the astrological new year - aligning our mind and heart. We have a had a lot of emotional wounds come up, a lot of tenderness and a lot of distraught coming up with this New Moon as Chiron (the wounded healer) plays a heavy leading role at this time. I mean of course… did we really think we could walk into a new year emotionally without a deep purge first? The cosmos said not today honey! Oh an not only that we have had a lot of cosmic and earthly upgrades with the solar flares and Schumann resonance peaking helping us to usher through these lessons quickly, upgrade our energy/mind/body and bring us into new timelines all at a rapid rate. This Aries New Moon conjunct Chiron in Aries does deep healing around our ego and our great "I AM" as it pushes us deeper into our truest selves. It pushes us deep into forgiveness, understanding and compassion- but most of all teaches us what we must give ourselves. We are shown where we are holding onto the despair, the pain and making it part of our identity and thus how it affects our lives from addictions, to not giving ourselves permission to heal. It shows us where we numb/check out/ shut down, don't show up and move in fear/scarcity. Chiron will keep revealing the wound over and over to help us to turn that pain into power. We have been shown a lot in this week leading into this New Moon (read our last few energy update posts) but this was all to help us to understand deeper so that we can come into full alignment of our mind and heart. Your heart has been asked to open even more and as it is- you can be more and more of who you truly are. Check in with the patterns and check in with the truth that your soul resonates with. The ego can get in the way- but your soul always leads you on the right path. Be gentle with yourself right now and lean into your support systems. Remember everyone is moving through something right now so be compassionate and understanding. Pour into yourself and fill your cup up with your healers, loved ones and your safest space. Get into nature and let Mother Earth hold you deeply. Things will get better. Let your loved ones be there for you. Let yourself share what you are moving through. Most of all honor the space and time you need as you shed and rebirth yourself. 💗
March 31st PST is our New Moon at 12° Aries. Dropping some quick notes on these energies tonight, so those who like to move in ceremony with our luminaries can go into tomorrow with clear intentions in mind. 🙏 Our New Moon is conjunct Chiron the wounded Healer, giving this fresh cycle a particularly unique and regenerative flavor. This position represents an opportunity to encounter old energies/wounds with a new approach, as this New Moon will be planting a rejuvenating seed in an area Chiron has been transiting your chart for many months. Chiron represents a raw area, a wound, or fracture in the psyche that is undergoing a healing process. Chiron's integration with Aries often invokes the archetype of the "wounded warrior", bringing us painfully in touch with the befallen hero in us all. This is an auspicious moon offering gentle yet honest reflections on how to heal, how to tend, and how to mend. The vitality of Aries breathes new energy into a space that may have exhausted us with it's persistence - giving us an unexpected crackle of fire, a little bit of inspiration, to try, try again. It's an intense moment in our yearly journey, and the energies will continue to increase over the next week as Saturn tightens in his square to the Nodes. (🚨Special attention given to April 4th/5th when Mars joins the square 🚨). With the South Node Scorpio under pressure, many are being shown their shadow, their personal dragons, the stuff we'd like to shove in a closet and forget exists entirely. 😂This process of healing takes a lot of humility, and some are better at looking at it than others. By proxy, over the next moon cycle we will be shown the polarity - ways to level the f*ck up and end these patterns. Pay attention, and be open and willing to change. Take note of toxic situations - and more importantly, the path away from them. The North Node in Taurus wants to build a new life with you - a much better one. A life of health, stability, wealth, and love. You don't need that old pain anymore. Time to cut the cord.
www.elishajane.com
www.dailyritual.live
MOON Letter | Stay Connected
Sign up to receive these straight to your inbox... Always full of everything you need to know about the moon, tarot, human design, energy downloads, music, movement, and upcoming events that are dope, dope, dope!
We hate SPAM. We will never sell your information, for any reason.