ˏˋ°•*⁀➷ MOON Letter | Aquarius Super FULL Moon: I want to break free! 。・゚゚・✼
Aug 01, 2023
ೃ⁀➷
Happy Full Moon in Aquarius!
.ೃ࿐
As I sit here contemplating what to write to you for this beautiful full moon, Queen popped into my head: ​I want to break free!​
How very Aquarius... :)
You know, in life, this beautiful life that seems to pass by so quickly, it's important to make sure you are doing it right. Do your life right!
But what does that mean?
Look around yourself.
✧.*Do you feel exalted?
✧.*Do you feel lit up and alive?
✧.*Do you feel excited about all of the things? The projects, the people, the environments you play within?
✧.*Does it feel like breathing in freedom and fresh air?
✧.*Does your heart sing with glee... Do you dance and exude joy regularly?
Your gift to the world is to shine who you are. Being yourself is the greatest act of service you have to give.
So as this full moon illuminates your service oriented heart of authenticity and community- how can you be more you?
Bask in the epic sparkle that you sprinkle just by being alive.
Your existence, when honoured in truth and free being, is your only objective for this life.
Live well.
Share your truest expression with us all: shine it, beam it, love yourself though yourself.
This is what you are here to do.
:)
Check in with anything holding you back or limiting your light... And maybe it's time to say... good bye.
⍣ ೋ*ೃ༄
Because this full moon is in Aquarius, the sun is in Leo, and Venus is retrograde in Leo... I feel like this moon is bringing to light issues of what is valuable, who we relate with and how, what we desire in relationship, and our worthiness of receiving love, abundance, and success.
What do you value?

What is your value (contribution, gifts, intrinsic DNA encodement that you were brought here to shine)?

Are you choosing (work, love, relationships) in love or fear?

What is changing for you in the realm of: values, money, relationship, love?

What makes you feel rich and abundant?
Soak it up. This is a time of sunshine and reflections... Slow moving with the summer of retrogrades, but lots of time to realign and set yourself up to shine like only you can.
KEY TAKEAWAY: devotion to Self for the betterment of All.
⍣ ೋ*ೃ༄
ILOVEYOU
>>> IMMEDIATELY UPCOMING + DOPE OFFERINGS <<<
​SOMA SENTIENCE FOUNDATIONS TRAINING​
DOORS ARE OPEN + EARLY BIRD PRICING FOR THE MONTH OF AUGUST!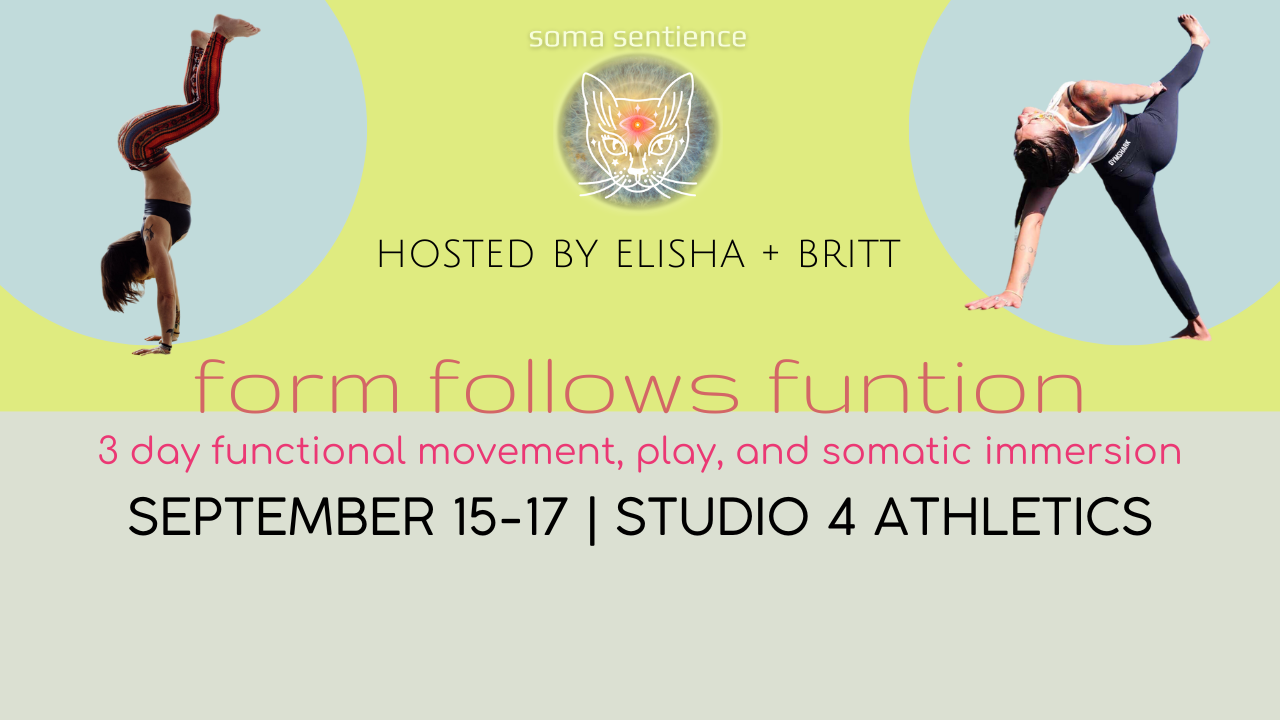 FRIDAY 15th: 6-8PM FREE FLOW CLASS
SATURDAY 16th: 9-11:30am FOUNDATION WORKSHOP #1 | 1-3:30pm WORKSHOP #2
SUNDAY 17th: 9-11:30am HANDSTAND PLAYSHOP | 1-3PM SOMA LOVE BODY CARE CLASS + WORKSHOP | 5-7PM BREATHWORK
Friday: $33 CAD, Saturday: $55 each workshop, Sunday: $55 workshop, $33 each class + breathwork.
Total for the whole weekend: $200 CAD | Studio 4 Members Price: $170 CAD
E-transfer: [email protected]
*move with me on ​daily ritual!​*
☄. *. ⋆SEPTEMBER 1st MEMBERSHIP LIFTS TO: $77/MONTH
INCLUDED IN MEMBERSHIP:
Unlimited access to live + interactive Zoom classes on a set weekly schedule
Zoom recordings updated weekly (essentially, never miss a class!)
Pre-recorded movement + meditation videos (a growing + dope library of amazing classes! - it's extensive in there!)
Movement professionals as your teachers (each with a minimum of 15 years experience teaching + bowspring, mobility, flow, and somatic inspired)
Playlist Offerings from me and the teachers

A loving community growing across the globe (we love you!)
​WWW.ELISHAJANE.COM/DAILY-RITUAL​
≪ ◦ ❖ ◦ ≫
ILOVEYOU
LOVE Elisha
​www.elishajane.com​ | ​www.elishajane.com/daily-ritual​
---
PS: movement classes are happening at Studio 4 on Saturdays at 10-1130am... Come check it out!
---
MOON LOVE
Magic of I | Aquarius Full Moon​
August 1 11:32AM PDT / August 1 8:32PM CEST / August 2 4:32AM AEST
MOONTHLY THEME:
COURAGE, CREATIVITY + FUN
AQUARIUS FULL MOON ILLUMINATION:
'When I express my most unique self, I call in the ones who see me for who I really am.'
​The Power Path | Full Moon Update​
​Rising Woman | Full Moon in Aquarius | Theme: Radical Self Acceptance​
​Pam Gregory | Full SuperMoon August 1st​
TIMELY UPDATES
✧.* ​Pam Gregory | Nodal Axis into Aries and Libra​
✧.* ​The Power Path | August Monthly Forecast: Change it up! Create new space!​
✧.* ​Lee Harris | August Energy Update: Surfing Waves of Tenderness​
✧.* ​Chani Nicholas | Daily Horoscope​
✧.* ​Hare in the Moon Astrology | Weekly Forecast​
✧.* ​Calm Whale | Energy Movement Aquarius Full Moon Meditation: Koshi Wind Chimes​
⁠
MOON Letter | Stay Connected
Sign up to receive these straight to your inbox... Always full of everything you need to know about the moon, tarot, human design, energy downloads, music, movement, and upcoming events that are dope, dope, dope!
We hate SPAM. We will never sell your information, for any reason.